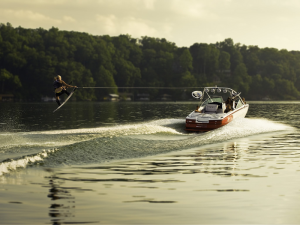 We provide the nicest Lake Powell Wakeboard lessons with some of the most innovated water sport equipment on the market.  Having the right instructor and quality boats make all the difference when learning or improving while wakeboarding.  Lake Powell Rentals has all the best wake boarding boats from MasterCraft, and water sports equipment from Slingshot, and Liquid Force; to allow any person the best possibility to excel with our professional wakeboard lessons.  Our instruction is great for all ages and sizes; everyone will have a great time even if your just watching on the boat.  Each of our wakeboard instructors are well trained to teach at any skill level.  We offer our wakeboarding lessons at any marina including; Antelope Point Marina, Wahweap Marina, Bullfrog Marina, Hite Marina, Dangling Rope Marina and Halls Crossing Marina.
Lake Powell wakeboard lessons are perfect for beginners who would like to start learning; intermediate clients who would like to start learning 360's, tantrums, or back rolls.  We also have advanced and super advanced professional teachers for wakeboard lessons at Lake Powell; this is for those who want to push the envelope.  Lake Powell Wakeboard lessons are adapted to each individual needs, and we offer half day, full day, and multi-day wake board lessons.  You can bring any amount of friends, family, colleges, or business associates with you; these are private wakeboard lessons, but whether you come by yourself or a large group the pricing is the same.  Everyone can ride and improve their wakeboarding skills on our boat charters at Lake Powell.
Here's a couple pointers before you come out on wakeboard lessons at Lake Powell for your first time: Slightly bend your knees, make sure your knees are close together not in a squatting position.  When your wake board comes out of the water make sure that you stand up. When pulling up, keep your center of gravity low until you feel that you're up. We will have all the wake board sizes for you on the boat charter.  Your Wakeboard depends on your height, weight, skill level, drive, and performance. When someone is having a difficult time getting up, try locking your elbows around your knees.  This will help you get the right position to pull you out of the water and up on the wakeboard.  Hold the position until you pop out of the water.  Always keep most of your weight on your back leg this will help you to not catch the edge of the wakeboard.  When carving shift your weight by leaning one way or another, but make sure you are always putting constant pressure on the back leg.